Truckload/Flatbed Trailers
---

Flatbed Trailers
Flatbeds are normally 48' long but range in lengths from 45′ to 53′. The deck height is usually 58″ to 60″. The stretch trailer, usually 48′ in the closed position, extends to lengths of 70′ to 80′. Most flatbeds are 102" wide. 





Step Deck Trailer
Step Decks are usually 48′ or 53′ long with lower deck lengths of 37′ to 43′, and heights as low as 32″ or 36″. The more common back deck height is 38″ to 42″. Some Step Decks even have folding ramps on the rear for loading and unloading from the ground. The extend able Step Deck stretches to fit longer loads, with lower deck lengths possible up to 61′.


 
Double Drop Trailer
Double Drop trailers have a low deck in the center, known as the "well", to accommodate high loads that would be too tall on other trailers. The length of the well is usually 25′ to 29′, with deck heights as low as 12″ but more often at 18″ to 24″. The extendable Double Drop has the added capability of extending the length of the well to as much as 50′ to 53′. 





Removable Goose-neck Trailer (RGN)
Commonly known in the industry as a "detach" or a "lowboy", this trailer is mainly used for hauling construction equipment, cranes, forklifts, and other self-propelled equipment that can be driven on and off. The goose-neck detaches and is pulled away from the lower deck along with the tractor, clearing the way to drive the load onto the trailer. The RGN is found in various configurations of deck types (flat floor, beam, or drop side), lengths, and heights, and variable configurations of axles. 





Multi-Axle Trailers
Very heavy loads are transported on these high capacity trailers. They are available in many combinations of decks, axles, and spacing.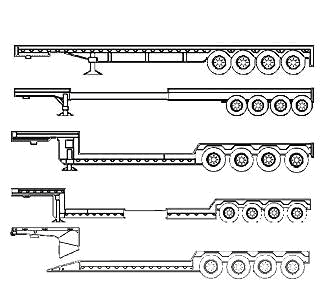 Dry Van
The 28′ pup and 48', 53' Dry Van accommodates a wide variety of shippers and is mainly used in the dock-to-dock rapid movement of goods and materials that cover a broad range 




Lift Gate
A platform at the rear of a vehicle or trailer that can be raised and lowered during loading and unloading. Standard lift gates have a max dimensional length of 90 inches and a max dimensional width of 48 inches for items that are being loaded or unloaded.